In Memory
John Wiegand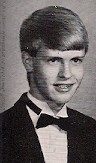 This is from the obituary in the Fort Worth Star-Telegram Feb. 17, 2000:

John David Wiegand, 28, a development assistant at Bass Performance Hall,
died Tuesday, Feb. 15, 2000, at a Fort Worth hospital from complications of
treatment for a brain tumor.
Funeral: 10 AM Saturday (Feb. 19) at Westcliff United Methodist Church.
Officiating: Dr. Ben Feemster and the Rev. Verne Fuqua. Burial: Laurel Land
Memorial Park.
Memorials: American Brain Tumor Association, 2720 River Road, Des Plaines,
IL 60018; or to Children's Education Program of Performing Arts, 330 E. 4th
St., Fort Worth, TX 76102.
John David Wiegand was born on Feb. 18, 1971, in Fort Worth. He graduated
from Crowley High School and received a degree in music business from the
University of Texas at Arlington. He was an accomplished musician, marched
in the bands of Crowley High School and UTA, performed with the Glassmen
Drum & Bugle Corps for four years, and was as instructor for Kiwanis
Kavaliers Drum & Bugle Corps and for Lone Star Drum & Bugle Corps. He had
worked at the Fort Worth Zoo, the Museum of Science & History, and at Bass
Performance Hall.
He was preceded in death by his grandfather, Paul Wiegand, one month ago.
Survivors: Parents, Cynthia & David Wiegand of Fort Worth; sister, Jennifer
Loupe and her husband, Brent, of New Roads, LA; niece & nephew, Sydney Loupe
and Chandler Loupe of New Roads, LA; paternal grandmother, Zella Wiegand of
Fort Worth; maternal grandparents, Chandler and Ada Mae Smith of Midland;
aunts and uncles, Melvin Wiegand, Clay Wiegand, Losi Kimball and Joanne
McClendon, all of Fort Worth; Lewis Smith of Jackson, TN; Pam Sharp of
Venus; and dearest friend, Nichole Belford of Fort Worth.
http://groups.google.com/group/rec.arts.marching.drumcorps/browse_thread/thread/912243b853b19b48/adefe2a0a35876%3Fq%3D%2522David%2BWiegand%2522%2300adefe2a0a35876&ei=iGwTS6eaOpW8Qpmqic0O&sa=t&ct=res&cd=3&source=groups&usg=AFQjCNE1MNR9TiNmOZGYKrF-Ti2Qp7PKVA?pli=1